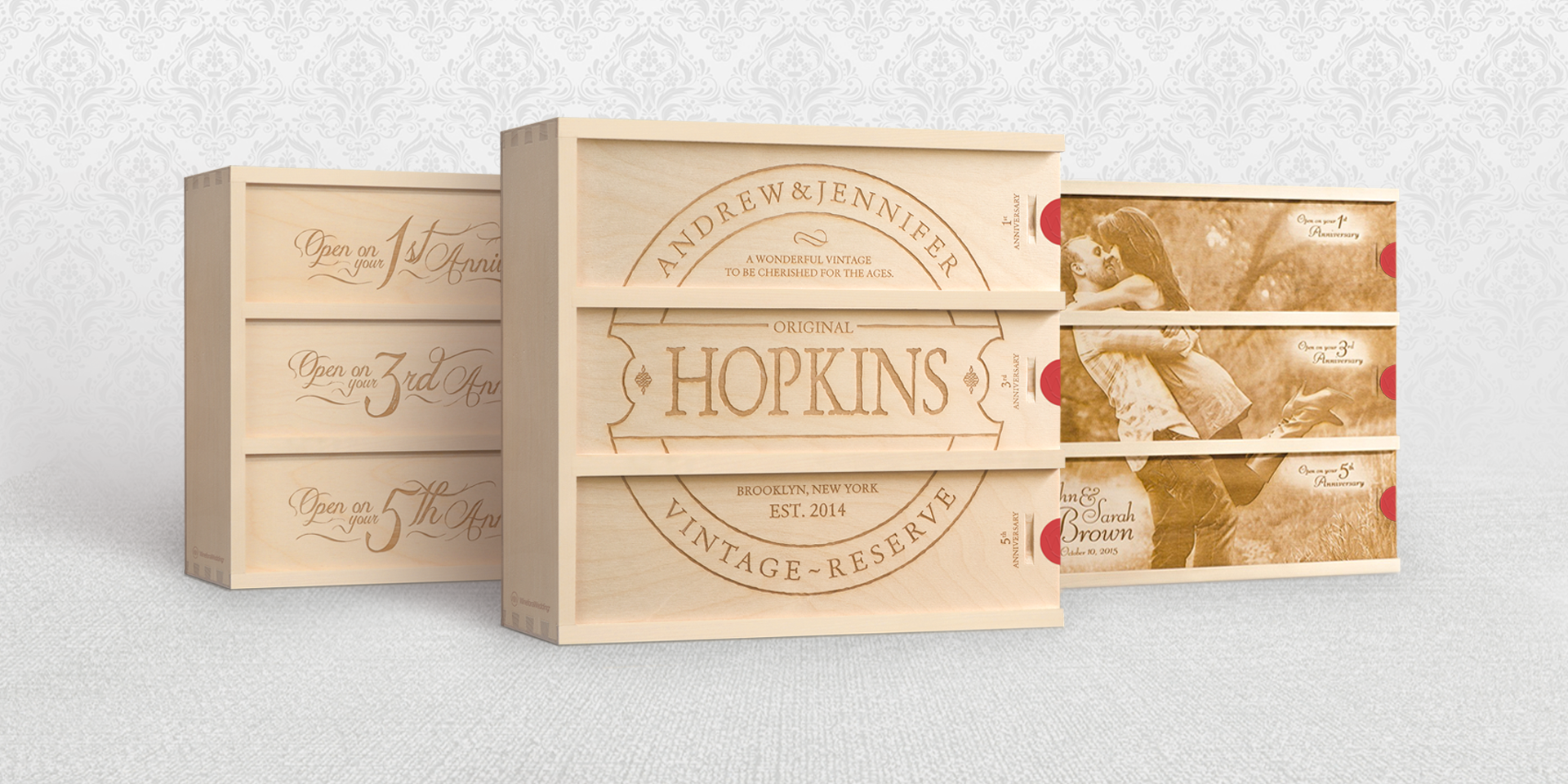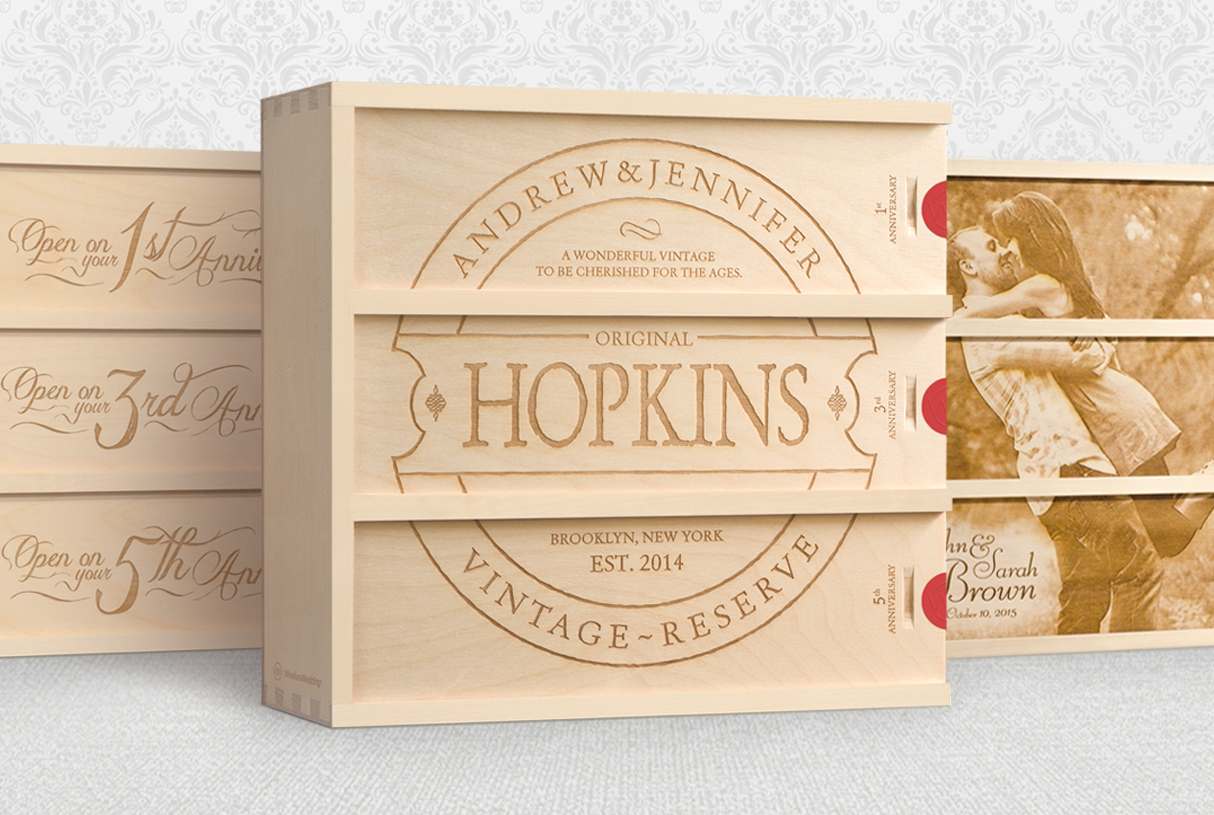 More Than Just a Gift, an Experience
The Anniversary Wine Box stands out from traditional wedding gifts, as it celebrates not only the couple's wedding day, but their future together. Our patented, open on anniversary design allows the wine you place inside the box to age and deepen with their love. With this unique gift, you are creating special moments for the couple to share a bottle of wine and reminisce about their journey together.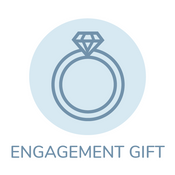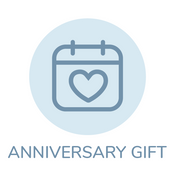 What Makes This Gift Exceptional?
Highly personalized
customization
options
Creates 4 gifts
1 wedding +
3 anniversary gifts
Handcrafted
by artisans for
superior quality
More sentimental
than traditional
wedding gifts
Creates special
shared moments
for the couple
The Perfect Wedding Gift for Creating Special Moments
Ready to Create an Extraordinary Gift?
The Anniversary Wine Box was created to be the most thoughtful & unique wedding gift the couple will receive.
ANNIVERSARY WINE BOX OPTIONS
Make Your Gift One-of-a-kind
Add those personal touches to create a truly special, custom wedding gift that the couple will cherish for years to come. We offer many unique options that will make your gift the most thoughtful & personal wedding gift they receive. You can find the options below on the product pages during the ordering process.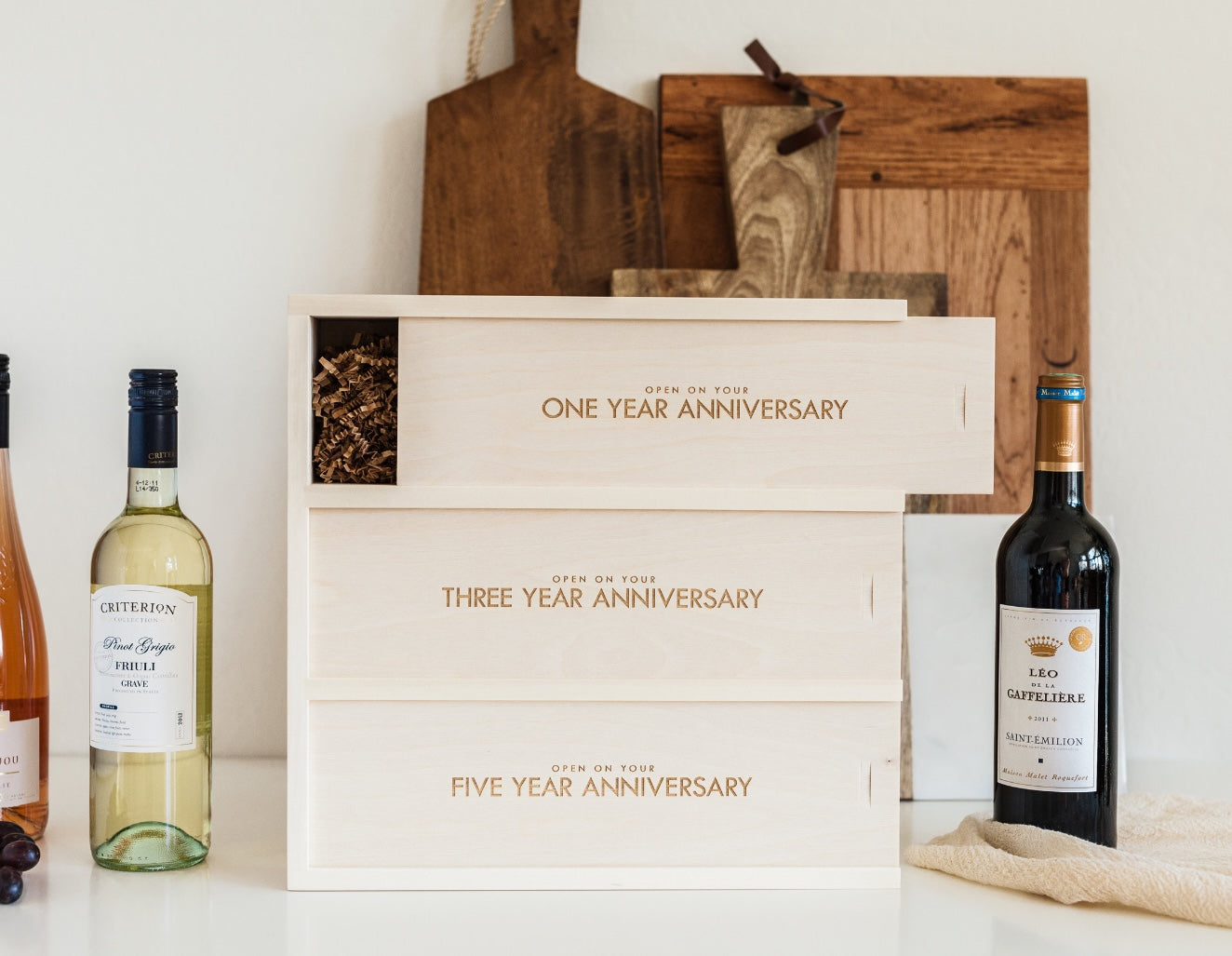 Open On Anniversaries
Within the Open On Anniversaries dropdown we offer a few of the most popular options, such as the first, third and fifth anniversary shown here (1/3/5). There is also the ability to enter your own custom anniversary years. This makes it easy to create a special wedding wine box for the newlyweds or an anniversary gift to celebrate the couple who has been together for decades. 
Inside Lid Messages
As the couple opens each lid to celebrate their anniversaries, they get a special toast from you engraved on the inside of each lid. Song lyrics, poems, quotes, stories, sarcastic insults - we have seen them all. This makes each one special and unique. Need some inspiration?
message ideas
Add a Photo
Feature their wedding or engagement photo on the front of the photo anniversary wine box or to the back of any anniversary wine box. Upload a photo and enter the couple's names and wedding date. Our artists will create a proof that will be emailed to for your approval before engraving begins. Below are a few examples.
HOW TO SELECT A GOOD PHOTO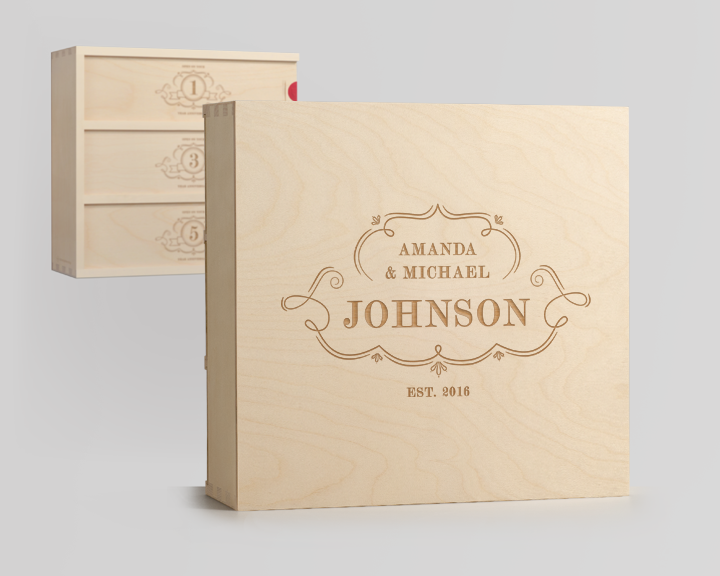 Add a Nameplate
If you don't have a photo, another option is to add a nameplate to be engraved on the back of the wine box. This is a great way to personalize the gift with the couples names and wedding date. Each box design has it's own unique nameplate that coordinates with the design on the front of the wine box.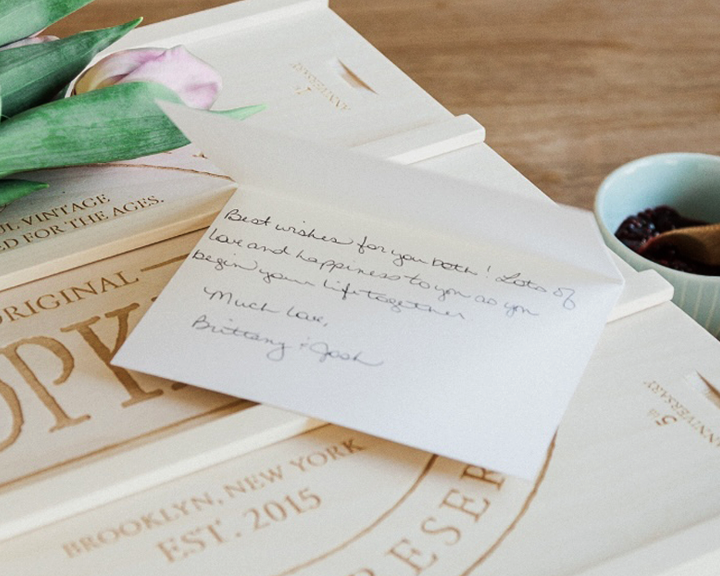 Handwritten Note
Be sure and let them know who gave them this great wedding gift. We will handwrite your words on a linen card to give it that personal touch. If you prefer to write your own note, simply type "leave blank" and we will include a blank card.
why our box is better
Made With Passion
We quite literally invented The Anniversary Wine Box and hold a U.S. patent to prove it. We built a wood shop devoted to making it. Our wine boxes are not just another wood product to add to our collection of wares or something we outsource for production. It is what our business is built on. While others have tried to imitate our designs and concept (flattered btw) we have spent over a decade perfecting our box and our methods of handcrafting it. You will not find a wine box made with more passion, sweat, tears, commitment and love – and it shows.
learn more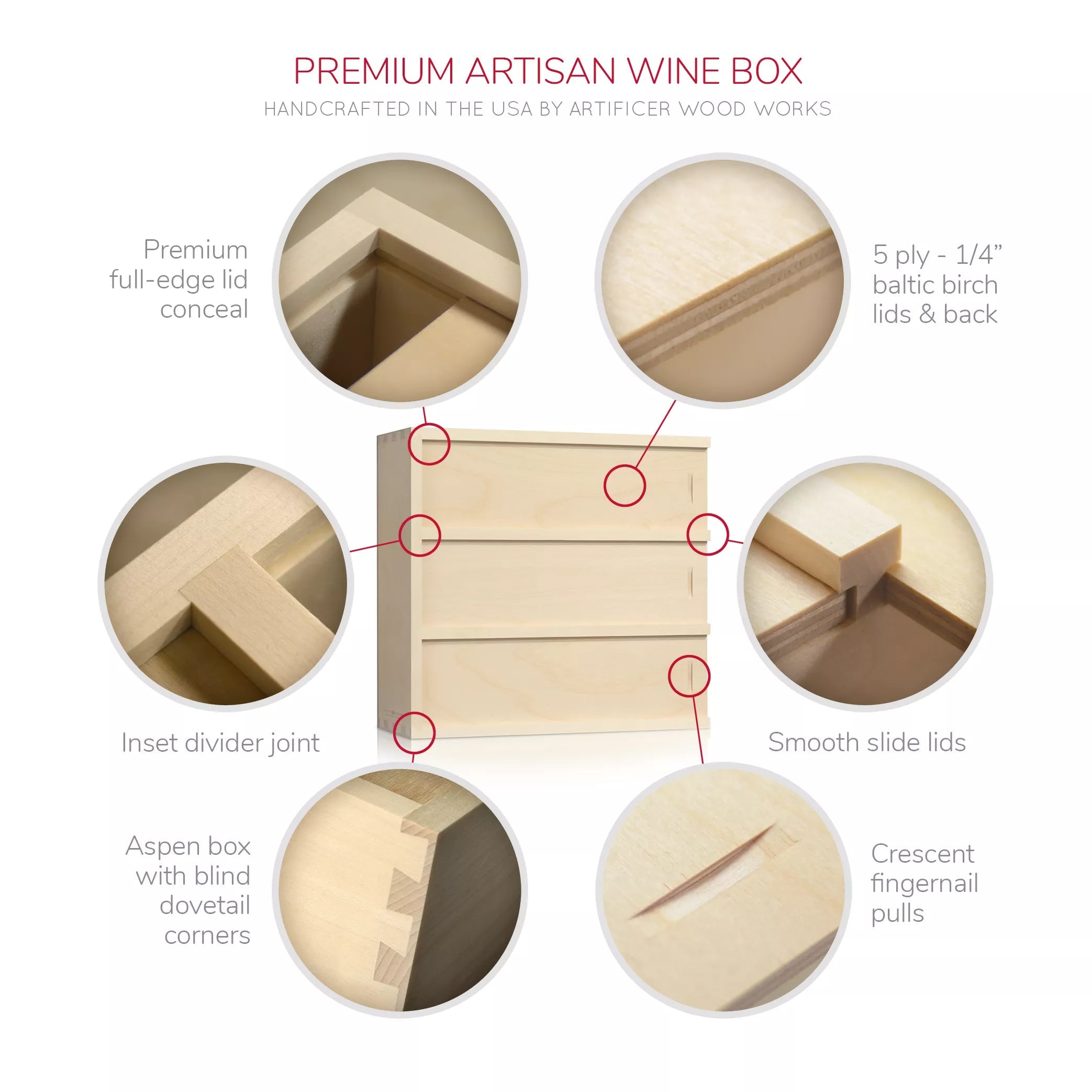 MAKING YOU HAPPY,
MAKES US HAPPY
We have helped tens of thousands of customers give exceptional gifts. Their stories are the best measure of our success.
Let customers speak for us
The craftsmanship is remarkable and beautiful.
The craftsmanship is remarkable and beautiful.
I ordered the 3 wine bottle personalized box for a 1 year, 3 year, 5 year anniversary. The box came and it was beautiful. The shipping box was damaged in one corner and the actual box had damage on the corresponding corner. I was so disappointed as this was a wedding gift. I contacted Stacie and explaned the situation, she was wonderful and had a replacement sent out to me in time for the wedding. The happy couple loved it!! I give Artificer Woodworks 6 stars out of a 5 star scale. Thank you Thank you.
Perfect!
They were extremely helpful with the customization and the item came exactly as described. Thank you so much!
Perfect Gift
This is the perfect wedding gift for the couple who has everything. It arrived on time and looked beautiful. This is a gift you will be proud to give.
Nailed It
Loved the final product, great work & arrived quickly!
Superior Product!
The 3 section box was amazing. The picture did not loose a bit of detail and the quality of construction was great. Entire process was efficient and well communicated. Finished product exceeded my expectations and brought tears to the eyes of the Bride & Groom. Well Done!
A beautiful wedding gift for my daughter
This is actually my second wine box that I've purchased. The first was for my husband for our anniversary and this most recent one for my daughter who is getting married. We plan to give her a special bottle for every anniversary. This box is lovely. It always comes very well packaged and with a nice note. The quality is exceptional and will make a lovely wedding gift.
Always quality!
I ordered a keepsake box for a wedding gift and as always-it was perfect. The couple were thrilled as they are "eloping" and need a place to store their memories! Artificer comes through again and again with simply the best gifts!
Wedding gift box
Excellent workmanship on gift box for wedding gift Highly recommend this company
More than checked the (wine) box!!!
Creative design, high quality product, quick delivery. Recipient absolutely loved it. Thanks Artificer Woodworks
the best wedding gift ever!
I love ordering this gift for the bride and groom! They get something to open years from now and get another note from us on future anniversaries! thank you so much for always getting this back to us in plenty of time for the big day!
Best Wedding Gift Ever
I recently purchased a classic trio anniversary wine box for my cousin's wedding. I had been looking for the perfect gift for a wedding overseas. I came across the artificer woodworking company website and found exactly what I was looking for. They had so many great ideas for any special occasion, including personal customization.
Their idea of taking the picture of the bride and groom from the wedding invitation and stenciling the photo on the back of a box which holds 3 wine bottles (1yr, 3yr, and 5yr anniv). And I was able to write a customized message for each anniversary.
On top of the product exceeding my expectations, the staff reached out to me and allowed me to confirm that the picture looked exactly the way I wanted.
During this email exchange, I was also able to tell them about my time sensitivity because I was flying overseas. The staff was very polite, and was able to confirm that they will ship the product as soon as it was done to ensure that I would have it before I left.
The entire experience was wonderful, and I highly recommend this company for any special occasion that you would like to give a very meaningful and thoughtful gift.
I will be sure to use them again as I have a number of weddings this year.